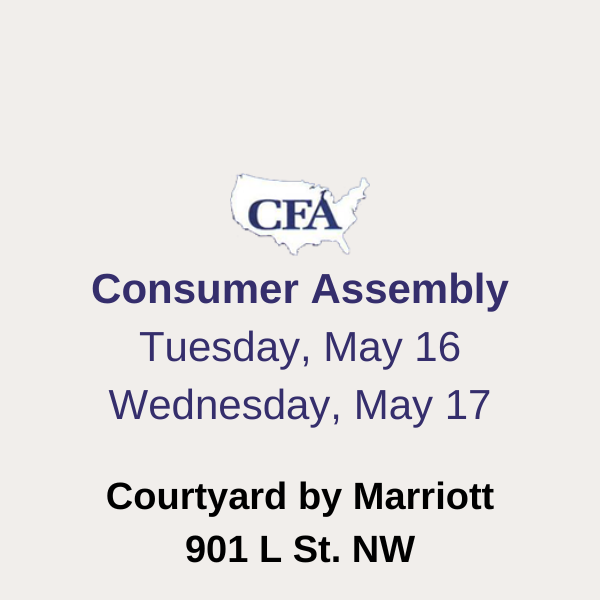 Conference
CFA's Consumer Assembly
May 16 - 17, 2023
Each year, Consumer Federation of America's Consumer Assembly in Washington, DC serves as the consumer movement's principal meeting where issues are debated and new initiatives are presented. Since the Assembly's inception in 1967, thousands of consumer activists and representatives of cooperatives, trade unions, business, government, and the press have participated in this annual conference. This year, NCLC experts will present moderate two panels.
The Continuing Epidemic of Medical Debt
Tuesday, May 16, 4 pm ET
In 2022, the CFPB estimated that consumers had $88 billion in medical debts on credit reports. Kaiser Health Network estimates that more than 100 million consumers– or 41% of adults– are saddled with health care debt. However, a disproportionate portion of Black, Hispanic, and low-income consumers struggle with medical debt. In addition, medical debt is more common in the Southeast and Southwest because those regions did not expand Medicaid coverage. Last year, the three biggest credit reporting agencies, Equifax, Experian, and TransUnion, announced changes to how they report medical debt which will amount to removing nearly 70% of medical debt. President Biden subsequently announced government-wide actions to lessen the burden of medical debt on American families. Although these were positive steps forward for America's consumers, medical debt still remains a significant problem for consumers, especially Black and Hispanic and under and uninsured consumers, and can have a serious impact on a consumer's ability to secure housing, loans, insurance, or even jobs. This panel will delve into the growing issue of medical debt, the systemic failures that have caused this epidemic, and how recent reforms are both promising and still fall short in sufficiently addressing the issue.
Moderator:
Berneta Haynes
Staff Attorney
National Consumer Law Center
Panelists:
Noam N. Levey
Senior Correspondent
Kaiser Health News
Jared Walker
Founder
Dollar For
Marceline White
Executive Director
Economic Action Maryland
Breakfast Dialogue: State Advocacy Efforts to Stop Fintech Evasions
Wednesday, May 17, 8 am ET
Moderator:
Lauren Saunders
Associate Director
National Consumer Law Center
Panelists:
Liz Coyle
Executive Director
Georgia Watch
Dana Wiggins
Director of the Center for Economic Justice
Virginia Poverty Law Center
Carrie Hunt
President/CEO
Virginia Credit Union League