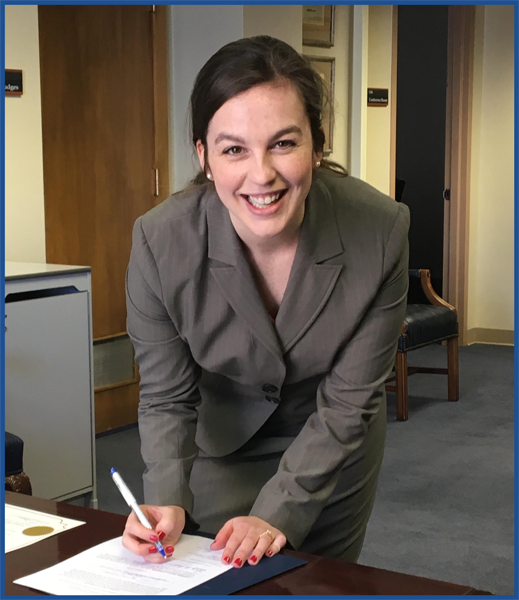 "I grew up in a rural part of eastern North Carolina where most people are low-income. My mom was in real estate and my stepdad was in construction, and they had bought their first house together in 2008. As you can imagine, the financial crisis put my family in a really difficult situation — my stepfather lost his job and my mom's real estate clients dried up, so they were both unemployed for some time. Thankfully, we were able to access a state mortgage modification program that let us keep the house and stay near all our friends and neighbors.
When I was in law school at the University of Michigan, I ended up at an event where Professor Michael Barr, who was a member of the Department of the Treasury in the Obama Administration talked about the Dodd-Frank Act and his role in getting the state mortgage modification programs off the ground. I actually went up and told him after the event that my family had been in one of the programs he created, and that I wouldn't be in law school if I hadn't had the opportunity to stay in my home and finish my high school education. From then on, I became really passionate about helping other families stay in their homes and avoid falling into debt, and he helped direct that passion towards the field of consumer law.
I also had the good fortune to meet NCLC's Litigation Director Stuart Rossman through the consumer class action litigation class he taught at Michigan, and he remains my greatest mentor (and a great friend) to this day. I learned a ton from Stuart's class, which led to me spending the summer of 2016 as the Bob Hobbs Fellow at NCLC. I got to work on housing justice issues, major class actions, financial services, mortgage servicing, some student loan and prison cases — a little bit of everything! — and that summer really convinced me that consumer law was where I needed to be.
I had a daughter in April and I'm newly motivated to make the world a better place for her. Since 2008, I've never stopped thinking about debt and worrying about how the burden of debt is going to impact the next generation. So many Americans, especially folks who are from the kinds of communities I grew up in, are just overwhelmed by debt, and I know that the more we fight back against the corporate practices that cause people to lose their homes or get stuck in debt they can't afford, the stronger and happier and healthier our families will be."