NCLC proudly traces our roots to the 1960s "War on Poverty," which began funding legal services for low-income people with two main goals: improving access to the legal system for all people and enabling advocates to seek justice wherever justice for low-income people is needed.
Our first role was to serve as a support center for legal services offices, building and sharing expertise in the complex field of consumer law, and as a national leader in consumer law reform. Our initial application for funding stated that NCLC would serve "as the nation's leading advocate of the rights of poor consumers," and for the last 50 years we've worked to live up to that promise.
From our first days to the present, we've shared our expertise with on-the-ground attorneys and advocates who directly represent low-income people, providing essential support to front-line legal aid lawyers and helping develop a strong and growing group of private attorneys who represent consumers in every corner of the nation.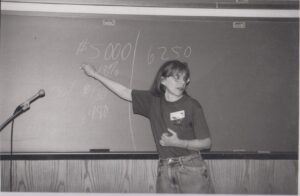 Since 1982, NCLC has published comprehensive, authoritative, and indispensable legal treatises widely considered to be the nation's preeminent source of consumer law expertise, and regularly cited in judicial opinions by courts across the country, including the U.S. Supreme Court. The 21-volume Consumer Law Practice Series and the NCLC Digital Library serve as a resource for more than 4,000 current subscribers and are used over 35,000 times each month by attorneys working to detect and remedy auto fraud, challenge arbitration clauses, stop threatened foreclosures, and so much more—making a real difference in the lives of real people.
NCLC conferences and trainings, starting with our first National Consumer Law Specialist Conference in 1976 and continuing with the annual Consumer Rights Litigation Conference (CRLC) since 1992, provide expert training to thousands of consumer champions each year, and facilitate the building of relationships that serve as a source of support, ideas, co-counseling arrangements, and long-term partnerships that help consumer attorneys effectively represent their clients.
In addition to our Boston headquarters, NCLC has maintained an office in Washington, D.C., for over 40 years, to ensure a strong pro-consumer voice in our nation's capital. In 2017, our D.C. office was named the Spanogle Institute for Consumer Advocacy, in honor of John Andrew (Andy) Spanogle Jr., a longtime consumer advocate, NCLC Partners Council member, and co-chair of NCLC's Campaign for the Future.
In 2019, NCLC and its network was profiled on PBS stations across the country in the 23rd season of Visionaries, the award-winning public television series hosted by acclaimed actor Sam Waterston. National Consumer Law Center: Americans Fighting for Consumer Rights profiles our attorneys and civil legal aid partners on location in Atlanta, Boston, Detroit, and Washington, D.C., highlighting our work to protect low-income families from wrongful eviction, foreclosure, and other unfair and deceptive consumer abuses.
NCLC is proud to receive the highest ratings from charity watchdogs, including four consecutive 4-star ratings from Charity Navigator, the country's largest independent charity evaluator, attesting to our commitment to fiscal responsibility and accountability, and GuideStar's 2021 Platinum Seal of Transparency, the organization's highest distinction for nonprofit transparency and accountability.
From our first day to the present day, we are proud to support consumer advocates across the nation – and we depend on the support of those who benefit from our work. NCLC is a non-profit, non-partisan organization, and we hope you'll consider making a tax-deductible gift to help us fight for economic justice.
Please support NCLC's work to advance consumer rights and economic justice with a tax-deductible contribution today!
Donate